Keeping Fans Engaged Beyond the Tournament
Unless you've been living under a rock for the last month, you must have noticed the repeated renditions of Three Lions and the excited shouts of "It's Coming Home!" throughout England.
The World Cup 2018 has – without question – united nations and created a real buzz around football which has been missing for some time. However, this level of fan engagement isn't anything new; all of the major tournaments inspire new followers to get involved.
Here's a look at what a major tournament can mean for fan engagement and its impact on longer term participation.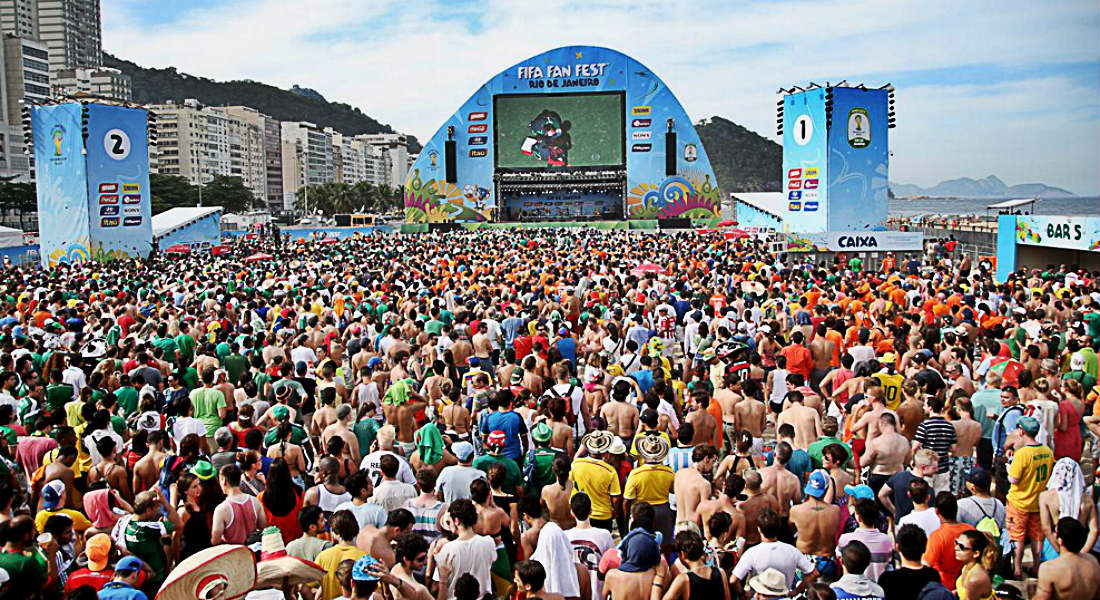 *Brazil supporters watching the World Cup in a fan park in Rio De Janeiro.
Why the tournament matters for fan engagement
There's no question that the success of the team or individual plays a big part in the enthusiasm of nations across the world.
England reaching the semi-finals of the 2018 World Cup was almost a dream come true and far exceeded pre-tournament expectations. This success and the response from the fans back home isn't confined to football. Take a look at other sports and you'll see the same pattern emerge. For example, in the Tim Henman era and more latterly with Andy Murray, youngsters become engaged with tennis in a way which outstrips the tournament itself.
Accessibility
Watching live football isn't always easy for children unless the family home is equipped with satellite channels. Weekend games aren't displayed on standard free to view TV so that can make it difficult to access.
The same applies for certain other sports too with many of the regular tournaments snapped up by pay per view or fee-based satellite channels.
However, this isn't the case for major sporting events such as the World Cup. Broadcast on terrestrial channels, these football matches can be watched by anyone, opening up a whole new world of sports and competition.
Reading about the match after the event is a poor substitute, and it's only by seeing the sport played is it possible to develop a real enthusiasm. This level of accessibility helps to drive engagement at grass roots level and draw new fans into the sport.
More than just a bystander
These tournaments alone can drive up participation at grass roots level, especially for children but to keep fans engaged after the tournament takes more work.
This is where CRM and data have a major part to play, allowing an individual strategy to be developed.
One of the reasons why the feel-good feeling of "It's Coming Home" was so universally adopted in England was because it made fans feel as if they were part of something bigger. Using data allows the right kind of strategy to be developed which includes touchpoints which are relevant to the fans. Three Lions is a great example of this in practice, where having good data during the tournament can lead to a successful and sustainable campaign which drives fan engagement in the long-term.
However, in order to develop a successful CRM strategy, the sports first need data. Who was engaged by the tournament? How many youngsters watched the game? Whether it's football, tennis, golf or another sport entirely, having good data during the tournament can lead to a successful and sustainable campaign which drives up fan engagement in the longer term.
What happens next?
Fans are on the crest of a wave.
Engagement is through the roof, meaning now is the time to track your fan's interactions and customer journey.
Have you sold more season tickets? Are membership enquiries spiking? How does this fan engagement feature in your KPIs?
Do you know what steps to take to make best use of this opportunity to engage with your fans?
If you need outside help to direct your team, or take ownership of a fan engagement campaign, Winners FDD are a sports marketing consultancy who have helped sports organisations of all sizes manage communications and understand marketing analytics.