How's that for a clickbait headline? No, we're not changing – we like what we do, who we do it for, and I believe we're very good at it – but as we think about 2022 and how things might change for our industry, we look at a strapline that we use in our book, in our workshops, and indeed as a driver of our thinking and our processes, and realise it needs to change:
"We use data to increase revenue, engagement and participation."
So, what's the big change here, how do we change that line to represent the power of data more fully and how rights owners can use it?
We need to acknowledge the crucial role data can play not just in increasing things, but also decreasing things, specifically your operational budget.
Digital Transformation – It's Not Just About Your Athletes and Fans
The sports industry has been using data to make athlete performance-based decisions for years (this is a good point to remind you if you haven't yet watched Moneyball, please do so) and is making great progress using it to understand and engage with fans. This is thanks – in part – to Goodform and TwoCircles developing the industry over a decade ago, and then being joined by companies like us and PTI Digital, along with vendors who take off-the-shelf software or bespoke build solutions that are tailor-made for the sports industry: Stellar Algo and Sports Alliance are two that have distinctly different offerings but provide rights owners with dedicated data functionality.
If you haven't started your own digital transformation discussion, aren't using data at all for engagement, or aren't even sending email campaigns, please get in touch – we can provide you with lots of case studies and help you figure out what to do next (and don't worry, there are still lots of you out there – you're in the majority not the minority).
But where we're seeing a significant rise in interest is in helping rights owners answer the question "how do I use data to decrease my costs and operate with more efficiency?"
Repairing The Elevator Before It Breaks Down
Years ago I was fortunate enough to see Jujhar Singh be interviewed by Paul Greenberg and discuss how lift manufacturers were using predictive analytics to provide a service to their hotel clients. This results in reduced operating costs and perhaps even more importantly, a higher % of service uptime which resulted in fewer guest complaints.
This is the principle: lifts go up and down multiple times a day and with every journey they're producing data points: the number of journeys, the number of floor stops, the weight of the load/number of passengers, to name just a few. So instead of sending out their engineers on annual maintenance checks backed up by a "call us when your lift's not working" offering, they started mining their data to understand trends and patterns in breakdowns. How many journeys, how many stops, and how many passengers until something breaks?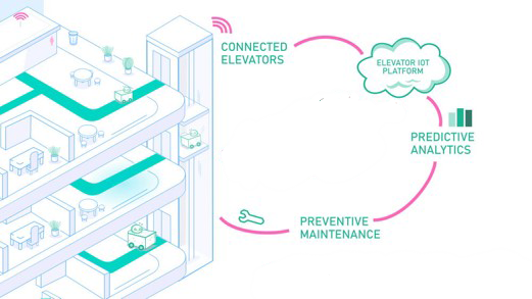 By analysing this historic data, they could take a guess at what might happen in the future – the data equivalent of a crystal ball and the essence of predictive analytics – and plan their annual maintenance checks accordingly. For example, if a lift can make x journeys, y floor stops, and carry z passengers before it breaks down, why not check it out when it's done x-10%, y-10% and z-10% because surely that would prevent the break down?
Ok so I'm simplifying things a little bit here but my favourite piece of client feedback we get is how we demystify things by using simple language that everyone can understand.
And the results were of course a decrease in the number of breakdowns their lifts suffered, along with hotel guests seeing fewer "NOT IN SERVICE" notices, and clients paying lower maintenance bills.
What Does This Mean For The Sports Industry?
I was only a few years into my own data career when I watched this interview and hearing this example at such an early stage really helped me understand how broad the applications of data are. Of course, while we've been using digital technology to increase and improve engagement with fans, we've simultaneously been using it to decrease our costs. Just two examples:
Email campaigns and push notifications allow us to personalise communication en-masse: we deliver a one-to-one service from a one-to-many action for €0.50 per thousand.
Website Q&As and chat functions reduce the cost to service our fans, operating even more effectively if powered with an element of machine learning/AI: we pay an annual software license and reduce the need for human intervention.
But when we're thinking about all our back-office functions – finance, HR, payroll, governance, etc. – we can apply the same data and digital thinking: what are the actions we do consistently that can be automated?
Using an online HR system that tracks and predicts absences, allowing you to make contingency plans to reduce disruption to your business operations.
Digitising staff time sheets that track the amount of effort to complete tasks, allowing you to allocate tasks that optimise available resources.
And one that combines operational efficiency with fan engagement for increased revenues: concourse data that tracks supply levels in each concession stand against the traffic in each section of the stadium, triggers an action when stock levels need to be replenished and messages the fans "more Pukka Pies are available"! (If you've never been to a Championship football match you won't get that reference…)
And what about the hotel lift model – what data can we analyse about our venues, stadiums, even playing surfaces, to apply a preventative maintenance programme to them?
At Winners our bread and butter, the stuff we get up in the morning for, the client work we thrive on, will continue to be "front end engagement", but as you think about what digital transformation means to you, when you consider what more you can do with your data, perhaps you'll consider reducing your costs not just increasing your sales. And the next time you enter a lift, remember W. Edwards Deming's quote "In God we trust. All others bring data."
Please get in touch if you'd like a conversation about data – to increase revenue, participation, and engagement, or to improve your operational efficiency.